Prospective Season Ticket Holders
SEE WHAT HAPPENS NEXT
If you've ever considered season tickets to Wisconsin Men's Basketball, now is the time to act. Coming off two consecutive Final Fours and a sweep of the Big Ten regular season and tournament championships in 2014-15, the Badgers are poised for another thrilling season in 2015-16.
Most importantly, you will want to be part of the energy and excitement of gameday at the Kohl Center. Read on and learn how you can become a Wisconsin Men's Basketball season ticket holder.
TICKET & CONTRIBUTION INFORMATION
SEASON TICKET REQUESTS
One of the many benefits donors to Wisconsin Athletics enjoy is the opportunity to request men's basketball season tickets. Requests for season tickets will be accepted from all 2015 donors contributing a minimum of $50 (Walk-On Club Level) and higher by July 15, 2015. For reference, while the Athletic Department cannot guarantee ticket availability for the 2015-16 season, all patrons who requested season tickets in 2014 were offered season tickets.
SEASON TICKET PRICING
100 level sections - $589
200 level sections - $513
300 level sections - $437
SEAT AVAILABILITY AND CONTRIBUTION INFORMATION
Due to the loyalty and passion of our patrons, the typical overall season ticket retention rate is very high, while the quantity of season tickets that become available for new patrons in high demand seating areas is very low (See below). As a result, most seats that are expected to be available for the 2015-16 season are located in 300 level sections. For 100 and 200 level sections, the retention rate approaches 99%, resulting in limited seats becoming available in these high demand areas.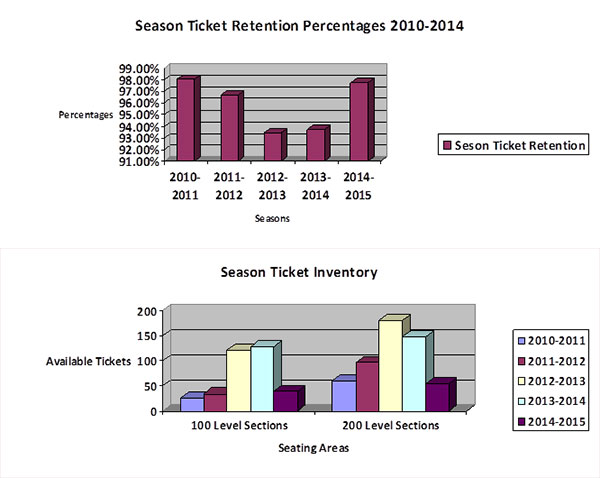 In an effort to equitably serve Wisconsin Athletics donors, the allocation process to determine priority for tickets is based on each patron's donor rank, which is comprised of two factors:
1st - Annual Giving Level
2nd – Priority Point Ranking Within Annual Giving Level
For additional information regarding contributions which could impact your ability to be offered season tickets in high demand areas, please contact the Athletic Development Office at (608) 262-1000.
Total annual contributions provide priority for the opportunity to request season tickets and must be received by July 15, 2015. Recommended minimum annual contributions for the opportunity to request seats in certain sections are as follows:
Sections 107, 108, 109, 121, 122, 123, 207, 209, 221, 222 and 223 – $300 each
Sections 106, 110, 120, 124, 206, 210, 220 and 224 – $200 each
Sections 101, 102, 103, 104, 105, 111, 112, 118, 119, 125, 126, 127 and 128– $100 each
Sections 307, 308, 309, 321, 322 and 323 – $50 each
Sections 201-205, 211-213, 217-219 & 225-228 –no recommended minimum annual contribution
Sections 301-306, 310-313, 317-320 & 324-328–no recommended minimum annual contribution
SEASON TICKET REQUEST PROCESS
HOW TO REQUEST TICKETS & REQUEST DEADLINE
The preferred way to request season tickets is online at UWBadgers.com. Patrons may also request season tickets by phone during regular business hours (8:30 a.m.-4:30 p.m., Mon.-Fri.) or by mailing the donor season ticket request application, which is located in the back of this publication, to the Wisconsin Athletic Ticket Office.
Season ticket requests are due by Wednesday, July 15, 2015
Requesting tickets online is quick and easy with just a few simple steps:
Visit UWBadgers.com
Hover your pointer over the Tickets header and click on "Buy Tickets" from the drop down menu
Click on "2015 Men's Basketball Season Tickets" to login to your account and request season tickets
If this is your FIRST TIME requesting online:
Under "Register Here" type in your patron # and pin # (which can be found in the back of this publication near your address information)
Click "Activate"
Enter your e-mail address, create a password and verify your account information
Click "Next Step"
Click on the application link to request 2015 Men's Basketball Season Tickets
When submitting requests, patrons will be asked to indicate whether they are interested in an offer of 300 level season tickets should 100 or 200 level season tickets not be available when their account is reviewed. Also, patrons will have an opportunity to express their desire for any specific seating requests.
SEASON TICKET REQUEST REVIEW PROCESS
Requests are reviewed one at a time based on each patron's donor rank as of July 15, 2015. Requests are filled based on availability at the time they are reviewed
Hundreds of requests are received each year. These requests are all personally reviewed by Athletic Department staff from early August through early September, however, the volume of requests may not always make personal consultation feasible
If you have not been personally consulted regarding your request, you will be sent an e-mail regarding the status of your request no later than September 8. The e-mail will include information on whether your request was filled or denied, as well as the results of the current year's seating process. If your request was filled, you will also receive an invoice for the cost of the tickets which is due upon receipt
The Athletic Department reserves the right to limit patrons to a maximum of six (6) season tickets in seating areas which have significant demand (100 level, 200 level, 300 level side court, etc.)
Decisions are based on the best judgment of the Athletic Department. The Athletic Department reserves the right to change any seat assignment without prior notice, thus there are no guarantees