Oct. 30, 2012
MADISON, Wis. - Badger fans will get their first chance to see the 2012-13 No. 23 Wisconsin wrestling team in action this Thursday at the annual Red vs. White intrasquad scrimmage.
The event will take place Thursday, Nov. 1, at 7 p.m. at the UW Field House. The doors will open at 6:30 p.m. and admission is free to the public. Fans in attendance will also receive a complimentary 2012-13 Badger wrestling team poster.
The scrimmage offers wrestling fans their first look at this season's Badgers team, a team that head coach Barry Davis said he's liked what he has seen from so far during the preseason.
"We're all on the same page and moving in the right direction," Davis said. "It's the small things, that's the key. If you do the small things right, everything else will come."
Davis said he has been impressed with the attention to detail from his team this year, but that one of the biggest changes from last season has been the noticeable uptick in intensity in the wrestling room. Davis attributed that change, in part, to the Badgers' ten-member freshman class, who appear to have injected new life into the program.
"We brought in a great recruiting class this summer," Davis said. "When you get a recruiting class with kids like that coming in, you definitely think that intensity is going to pick up, and it has picked up."
Wisconsin will also benefit from the return of redshirt junior, and two-time All-American, Tyler Graff. The Loveland, Colo., native took an Olympic redshirt last season in order to train in an attempt to qualify for the 2012 Summer Games in London. Davis said that that experience has not only been good for Graff's game, but is having benefits for Graff's teammates as well.
"Tyler had a chance to wrestle some high level competition," Davis said. "Anytime you can do that, and these kids can see that coming back into the room, it brings a lot of excitement. They think, `if Tyler Graff can do that, why can't I be at the same level he's at?"
"Tyler picked up a lot of good things from his experience," Davis added. "But it's carried over not only to him, but the guys he works out with too."
Davis admitted that, as a coach, it's tough to watch your own guys wrestle against each other, as the Badgers will Thursday, but it isn't easy as a player either to wrestle against your own teammate. But, with that being said, Wisconsin has a few weight class battles to sort out before the season, which should make the scrimmage highly competitive as guys fight for spots.
"You want to show some dominance because you want to be the guy at the weight class," Davis said. "The guys are excited because things are going to be real close. We've had a good preseason, and good training here all fall."
Intrasquad scrimmage coverage
If you can't make it out to the UW Field House Thursday to take in the Badgers' intrasquad scrimmage in person, UWBadgers.com has you covered. The scrimmage will be streamed live for free online at InsideBadgerSports.com, and fans can also follow along on the UWBadgers Gameday blog, as well as on Twitter @Badger_Wrestle.
Intrasquad scrimmage match order (White vs. Red):
157 lbs.: Brad Nardick vs. Lenny Bloom
133 lbs.: Tom Kelliher vs. Austin Hietpas OR Matt Cavallaris
133 lbs.: No. 16 Jesse Thielke vs. Austin Hietpas OR Matt Cavallaris
141 lbs.: No. 3 Tyler Graff vs. Shane McQuade
141 lbs.: Rylan Lubeck vs. TJ Ruschell
165 lbs.: Frank Cousins vs. Ben Cox
165 lbs.: Isaac Jordan vs. Sanantonio Catheray
174 lbs.: Scott Liegel vs. Nic Veling
184 lbs.: Dylan Iczkowski vs. Parker Hines
197 lbs.: Jackson Hein vs. Timmy McCall OR Brandon Weber
Hwt.: Cole Tobin vs. No. 15 Connor Medberry OR Brock Horwath
149 lbs.: Cole Schmitt vs. Lenny Bloom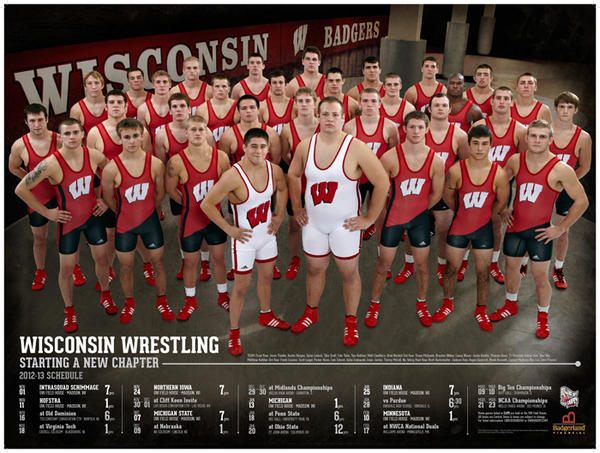 Fans in attendance at the intrasquad scrimmage will receive a free team poster.
--
Ryan Evans
UW Athletic Communications