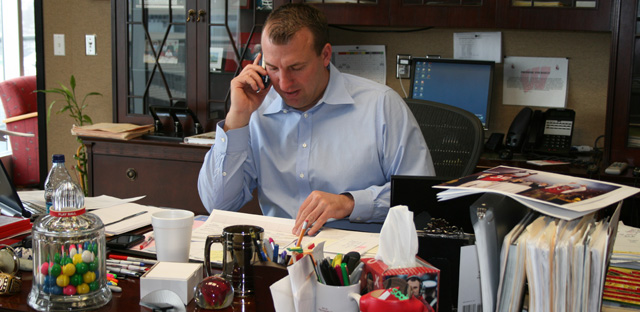 Comprehensive Signing Day coverage
MADISON, Wis.
UWBadgers.com is your home for exclusive and comprehensive coverage of 2010 Football Signing Day. We will be the first place to find out who makes up the Badgers' Class of 2010 and the first place to hear what the coaches have to say about them.
Complete list of Class of 2010 with bios and videos
Class of 2010 highlight video
Head coach Bret Bielema Signing Day news conference (video)
Signing Day New Conference Transcript
Archived Signing Day Live Blog
Signing Day 2010 Photo Gallery
Our coverage kicked off at 7 a.m. with a live blog from head coach Bret Bielema's office. Director of athletic communications Brian Lucas will convey the latest news. The blog will be the first place to learn who has committed to UW and find out the latest information about the newest Badgers. The blog is interactive and Lucas may take questions from fans throughout the day.
The live blog will end at 2:30 p.m. Head coach Bret Bielema will hold his Signing Day news conference at 3 p.m. CT on UWBadgers.com. The live video stream is free at insidebadgersports.com.
Related Content
February 3, 2010 - Signing Day reflections: Kraig Appleton
February 2, 2010 - UWBadgers.com is your home for complete Signing Day coverage
February 1, 2010 - Signing Day reflections: David Gilbert
January 29, 2010 - Signing Day reflections: Montee Ball
January 28, 2010 - Signing Day reflections: Chris Borland
January 27, 2010 - Signing Day reflections: Travis Frederick
January 21, 2010 - Herring starts Badger career, enrolls early