Badger Historical Books
The history of Wisconsin athletics has become a subject of several authors. From football to boxing to rowing, the illustrious stories of Badger Athletics makes for great reading.
Here are some of the recent offerings: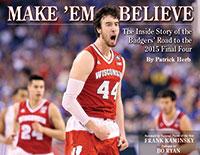 Make 'Em Believe
Make 'Em Believe chronicles the Badgers' magical run to the 2015 national championship as told from inside the Wisconsin locker room. With first-person stories from legends like Frank Kaminsky, Sam Dekker and Bo Ryan, this book gives Badgers fans a behind-the-scenes look at what made this team one of the beloved – and successful – teams in school history.
This hard-cover, dazzling keepsake includes over 100 full-color photos, including never before published images from the team off the court. Make 'Em Believe narrates the key moments from the season, game-by-game recaps of all the NCAA tournament games, special player and team features, and extended coverage of the Final Four victory over Kentucky and national championship game vs. Duke in Indianapolis. This one-of-a-kind work from UW men's basketball communications director Patrick Herb is a must-have for any Badgers fan.
To order a copy, visit http://www.kcisports.com/
---
Why Not Wisconsin?
In Why Not Wisconsin? From Barry to Bo: Broadcasting the Badgers From the Best Seat in the House, seven-time Wisconsin Sportscaster of the Year Award recipient and Badgers play-by-play announcer Matt Lepay travels from his early days in the business and some of the lower points in University of Wisconsin athletics, all the way through the ongoing triumphs of Badger sports over the last twenty years.
Detailing the personalities that have helped shape UW sports during this monumental period, this autobiographical account also features revealing stories on the teams' star players including Russell Wilson, Jim Leonhard, Jordan Taylor, Michael Finley and many more. An essential read for Badger fans old and new, Why Not Wisconsin? is a celebration of the resurgence of University of Wisconsin athletics from a man indelible to the Badger experience.
To order a copy, visit Triumph Books
---
The Opening Kickoff
With one historic play, Badger football legend Pat O'Dea put Midwestern college teams on a footing with their Ivy League peers.
Pat O'Dea, who played football at Wisconsin between 1896 and 1899, was the most celebrated gridiron hero the university had ever known. In his book The Opening Kickoff, Dave Revsine, the lead studio host at the Big Ten Network, has used the story of O'Dea to take a look at the early history of college football. The life of O'Dea, who was called the "Kangaroo Kicker," took some secretive turns after college that involved an indictment for embezzlement, an undercover job, and a new identity, and Revsine spent many hours in the UW–Madison Archives, poring over old issues of the Daily Cardinal and other sources to set the record straight. The Opening Kickoff, which is excerpted here, was released in July by Lyons Press.
To order a copy, visit Amazon.
---
Alan Ameche: The Story of "The Horse"
This is first biography of Alan "The Horse" Ameche, one of America's great gridiron heroes. Born in 1933 to Italian immigrants, he grew up in Kenosha, Wis., where he played for one of the state's best-ever high school football teams. From there he went on to break Big Ten rushing records for the University of Wisconsin Badgers, leading them to the 1953 Rose Bowl and winning the 1954 Heisman Trophy.
He earned his nickname "The Horse" for his tremendous training ethic, power, and stamina. In a professional career with the Baltimore Colts that lasted just six seasons before injury ended it, he was the 1955 NFL Rookie of the Year and went to the Pro Bowl five times.
Author Dan Manoyan gives a fuller picture of him as an Academic All-American, a devoted husband and father, a highly successful businessman after his football career, a pioneer in race relations, a patron of the arts, and a committed philanthropist.
To order a copy, visit The University of Wisconsin Press
---
What It Means to Be a Badger
Few college football experiences can top spending a fall Saturday afternoon at Camp Randall Stadium. Fueled by 80,000 of the nation's most boisterous fans, University of Wisconsin game days are a non-stop party, complete with pregame tailgating, the original Jump Around after the third quarter, and the famed Fifth Quarter celebration, win or lose. And while its fans celebrate in the stands, the football team has made a habit of excelling on the field: in 120-plus years of competition, Wisconsin has captured 12 titles in the challenging Big Ten Conference and competed in 22 bowl games. The Badgers record has been especially impressive in recent years: the team has missed out on a bowl appearance just twice since 1993.
The Badgers are near and dear to people throughout football-crazy Wisconsin because the school is the flagship of a top-rated university system and is the only Division I football program in the state. Rooting for the Badgers is ingrained in the culture, as important a part of the Wisconsin lifestyle as dairy farming and summer vacations Up North. Because of this, playing football in Madison has special meaning for those young men lucky enough to suit up in Cardinal and White. The experience leaves them with lessons that last a lifetime, including the value of hard work, supporting your teammates, overcoming adversity, and getting a top-notch education.
To order a copy, visit amazon.com
---
The Dayne Game: Ron Dayne and the Greatest Day in Wisconsin Football History
by Justin Doherty, UW Director of Athletics Communications
The University of Wisconsin football program has enjoyed its share of memorable moments, great players and legendary coaches during its nearly 120-year history. But Badger football had never seen - and hasn't since experienced again - a day like November 13, 1999, when so many elements converged to form the most exhilarating and satisfying day in the program's history.
It was the day that running back Ron Dayne ran into the college football record books as the NCAA all-time leading rusher. It was a game that clinched the second of back-to-back Big Ten titles. And it was a day that helped propel Dayne on to the 1999 Heisman Trophy as college football's outstanding player.
To order a copy, visit kcisports.com
---
Bo Ryan
Another Hill to Climb
By Bo Ryan with Mike Lucas
University of Wisconsin head men's basketball coach, Bo Ryan, with longtime Madison Capital Times sports columnist Mike Lucas, has written his autobiography, Another Hill To Climb. The 6 x 9, 224-page hardcover was released in September 2008 and is carried in bookstores across the country.
To order a copy online, visit Bucky's Locker Room.
---
Don't Flinch
Barry Alvarez: The Autobiography
By Barry Alvarez with Mike Lucas
Forewords by Lou Holtz and James Patterson
University of Wisconsin athletics director Barry Alvarez's autobiography talks about the lessons that he learned from his mentors, the hurdles that he had to overcome as a young assistant and high school coach, and the challenge of taking over his own college program while living in a fishbowl, especially from his family's perspective. Alvarez maps out a strategy and game plan for young coaches who are seeking to achieve similar goals, and he also talks about his future as Wisconsin athletics director, and the future of college football. Also included are a 16-page color photo section and the All-Alvarez team as chosen by Barry Alvarez.
To order a copy, visit kcisports.com
---
Always a Badger: The Pat Richter Story
By Vince Sweeney, UW Senior Associate Athletic Director
All-American tight end...basketball and baseball star...winner of Rose Bowl glory. Pat Richter's record as a University of Wisconsin-Madison athlete would be achievement enough for most men. But after making his mark in professional football and the business world, Pat Richter returned to lead the UW athletic program through one of the greatest turn-arounds in the history of college sports. Vince Sweeney gives you an insider's glimpse into the controversy, the drama, the thrills, and remarkable determination of Pat Richter, the man who is...Always a Badger.
To order a copy online, visit Trailsbooks.com.
---
Tales from the Wisconsin Badgers
by Justin Doherty, UW Director of Athletics Communications
Tales from the Wisconsin Badgers weaves together a series of anecdotes, personal recollections and research to give readers a taste of just a few of the stories that make Badger football so interesting. There are the Heisman trophies hard-earned by running backs Alan Ameche and Ron Dayne, a tumult of a 23-game winless streak broken with a victory over archrival Iowa in 1969, the bizarre tale of "Kangaroo Kicker" Pat O'Dea, the mysterious discovery of a long-forgotten trophy of one of college football's longest rivalries in a Camp Randall storeroom nearly 50 years after its disappearance, and the Badgers' ascendance to greatness under coach Barry Alvarez.
To order a copy, visit Amazon.com.
---
The 25 Greatest Moments in Camp Randall History
By Mike Lucas, Capital Times Reporter and UW Radio Commentator
Throughout the years the University of Wisconsin football program has provided Badger fans with many memorable moments at Camp Randall Stadium-the running of Heisman Trophy winners Alan "The Horse" Ameche and Ron "The Great" Dayne; the rough-and-tumble days of the '51 Hard Rocks; '42 legends like Elroy "Crazy Legs" Hirsch and Dave Schreiner; the Matt Schabert-to-Lee Evans touchdown pass to beat #3-ranked Ohio State in '03; and the '81 upset of #1-ranked Michigan. Which moment is the most memorable? Let the great debate begin.
To Order, call KCI Sports at 1-800-697-3756, or visit their website, kcisports.com
---
Third Down and a War to Go
By Terry Frei, Sports writer for the Denver Post and son of former 1942 Badger Jerry Frei.
The 1942 Badgers hold a remarkable place in history. They went from the playing field to such places as Okinawa and Europe to serve their country during World War II. Such great names as Elroy "Crazylegs" Hirsch, Pat "Hit 'Em Again" Harder and two time All-American Dave Schreiner were coached by Harry Stuhldreher (one of Notre Dame's Four Horsemen). They won a version of the national championship, awarded by the Helms Foundation before entering the fray. Some did not return. This is their story written with insight, humor and respect.
To order visit wisconsinhistory.org.
---
Lords of the Ring
By Doug Moe, columnist for The Capital Times in Madison
This book revives the exciting era of Wisconsin's collegiate boxing when 15,000 people would crowd into the UW Field House to view the most successful collegiate program in the nation. Wisconsin won eight NCAA team titles and 38 individual titles between 1933 and 1960. But tragedy struck in 1960 when UW's Olympic prospect, Charlie Mohr, slipped into a coma after an NCAA tournament bout in Madison and died. It was to be the last NCAA boxing tournament even held.
To order, print this form (PDF) or call University of Wisconsin Press at (773) 702-7212.
---
Wisconsin Where They Row
By Bradley F. Taylor
This book is the definitive history of rowing at the University of Wisconsin. Although this oldest of intercollegiate sports had its American beginnings in 1852 as a contest among Ivy League men, it would soon have to make room for the stubborn steadfastness of Wisconsin's athletes. Author Bradley F. Taylor captures the unique character of Wisconsin crew and its athletes in this meticulously researched and abundantly illustrated book.
Wisconsin Where They Row documents in detail an exciting story important to sports history, to Wisconsin's heritage, and to alums and fans of the Badger crew teams.
To order, print this form (PDF) or call University of Wisconsin Press at (773) 702-7212.
---
The following books on the University of Wisconsin sports can be found at amazon.com
The Amateurs
By David Halberstam
The story of four young men and their quest for an Olympic gold medal in rowing.
---
Mind Over Water
By Craig Lambert
Lessons on life from the art of rowing.
---
The Red Rose Crew
By Daniele J. Boyne
A true story of women's winning and the water.
---
No Bed of Roses
My Sideline View of the Wisconsin Badgers' Return to Greatness
By Chris Kennedy
He was just another walk-on on one of college football's most extraordinary teams!
During his four years with the University of Wisconsin Badgers, Chris Kennedy experienced the team's transformation from mediocrity to Rose Bowl glory under legendary coach Barry Alvarez.
In this intimate, candid memoir, Kennedy shares a behind-the-scenes account of the thrills and frustrations of the college athlete. His story will touch the heart of every Badgers fan and everyone who ever gave their all to reach for a dream.
For more information, or to order No Bed of Roses, click here.
---
Two Roads to Badgers Hockey Heaven
From the opening drop of the puck in October to those wild celebrations after winning the Frozen Four tournaments in Minneapolis and Milwaukee, you can now relive the unforgettable story of the 2005-06 Wisconsin Badgers men's and women's hockey national championship seasons in this new book from the sports pages of the Wisconsin State Journal.
To purchase your copy of this book, visit Amazon.com.
---
Aggressive Volleyball
By Pete Waite
Challenge every point, dictate the pace of the game, and walk off the court a winner. This is Aggressive Volleyball, your guide to fast-paced, high-intensity championship play.
In Aggressive Volleyball, renowned coach Pete Waite will help you identify the most effective tactics based on the strengths of your team and the talent of the players on the floor. You will learn to recognize your opponents' tendencies and make in-game adjustments to shut down the opponents and take over the game.
From offense and defense to out-of-system and transition play, you will learn to develop the skills, tactics, and competitive mind-set necessary for aggressive play. And with the game's best situational drills, you'll improve each player's individual skills, team execution, and on-the-court decision making.
Step onto the court with confidence knowing your team is in control. Play smart and play aggressive with Aggressive Volleyball.
Click here to order Aggressive Volleyball from Amazon.com.