Kristin Walker, Athletic Trainer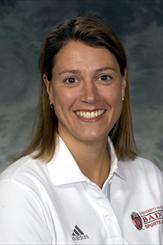 Kristy joined the University of Wisconsin Sports Medicine staff in the summer of 2004. Her primary sport responsibilities include providing athletic training coverage for the womenís volleyball team and the menís and womenís track and field teams.
A native of Tustin, California, Kristy received her bachelor of science in Biological Sciences at the University of California, Irvine while participating as a member of the womenís basketball team. She received her masterís degree in Sports Medicine from the University of Oregon with an emphasis in Human Anatomy and Exercise Physiology.
Kristy came to the University of Wisconsin by way of Purdue University where she served as the staff athletic trainer for the womenís volleyball and softball teams since 1998. She is a certified member of the National Athletic Trainersí Association and currently resides in Madison.