Jennifer Sanfilippo, Athletic Trainer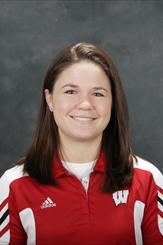 Jennifer Sanfilippo received her first Bachelor of Science degree in Biology from UW-Madison in 2005 and her second Bachelor of Science degree in Kinesiology-Athletic Training from UW-Madison in 2009. Sanfilippo then received her Masters of Science in Biomedical engineering from UW-Madison in 2011. During that time, she worked as an athletic trainer at University Health Services serving recreation collegiate athletes. Sanfilippo now returns to Badger Sports Medicine as the Sports Performance Coordinator for all Badger Athletics and the Athletic Trainer for Men's Soccer.
Sanfilippo is also a member of the National Athletic Trainers' Association and American Society of Sports Medicine. She resides in Madison with her fiancé Chris.