Jennifer Pepoy, Athletic Trainer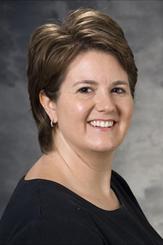 Jen joined the University of Wisconsin Sports Medicine staff in the fall of 2005. Her primary sport responsibilities with the Badgerís are supervision of menís and womenís soccer and primary coverage of the menís and womenís golf and tennis programs.
Jen graduated from Western Illinois University with a Bachelor of Science Degree in Physical Education, with an emphasis in Athletic Training in 1996. Jen also completed a graduate assistantship in athletic training at Minnesota State University-Mankato, where she obtained a Master of Arts in Physical Education.
In 1999, Jen began a four year stay at Creighton University. She served as the assistant athletic trainer with primary responsibilities for womenís basketball and womenís volleyball. She was a clinical instructor in the athletic training education program, as well as the insurance coordinator. In 2004, Jen began working at Beaver Dam Community Hospital, where she performed outreach athletic training services to area high schools.
Jen is a State of Wisconsin Licensed Athletic Trainer and certified member of the National Athletic Trainersí Association. She and her husband, Mark, reside in Madison.