Ashley Parr, Athletic Trainer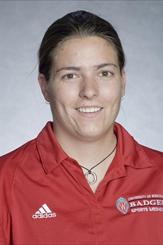 Ashley joined the Badger Sports Medicine staff in the Fall of 2005. Her primary sport responsibilities include providing athletic training coverage for the womenís softball team and spirit squads.
A native of Miami, Florida, Ashley received her Bachelorís of Arts in Athletic Training from Purdue University in 2003. She completed her Masterís of Education in Sport and Recreation Administration at Temple University. While at Temple, Ashley was the graduate assistant athletic trainer with menís and womenís gymnastics and womenís softball, as well as assisting with menís and womenís soccer. Ashley has also worked in the WNBA with the Detroit Shock as an athletic training student intern.
Ashley is a certified member of the National Athletic Trainersí Association, as well as the National Strength and Conditioning Association.