Alyson Kelsey, Licensed Athletic Trainer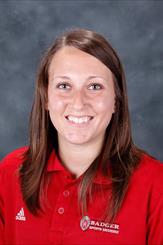 Alyson Kelsey is an Intern Athletic Trainer for Badger Sports Medicine and just joined the staff in July of 2013. While working at UW, she will provide some sports medicine services for Football, but work primarily with the Cross Country, and Track and Field teams. Before coming to UW-Madison, Alyson provided sports medicine services as a graduate assistant Athletic Trainer for the University of Virginiaís Cavalier Football, Womenís Rowing, and Cheer/Dance teams.
Alyson received her bachelorís degree in Athletic Training at the University of Wisconsin-La Crosse, with a minor in psychology in 2012, and her Masterís of Education degree in Athletic Training/Sports Medicine from the University of Virginia in 2013.
She is excited for her opportunity to work with the staff here at UW, and grow as a scholarly clinical with Badger Sports Medicine this year.
Alyson is a licensed Athletic Trainer, and a member of NATA, and Wisconsin Athletic Trainersí Association. She was the recipient of the David H. Perrin Athletic Training and Sports Medicine Award while obtaining her masterís degree at University of Virginia.
Alyson is originally from Hayward, WI. She currently resides in Madison.