Andy Hrodey, Athletic Trainer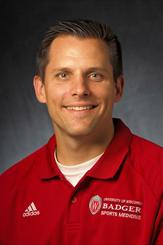 Andy is beginning his fifteenth year as an assistant athletic trainer at the University of Wisconsin-Madison. This is his second tour of duty with the Badgers, after previously being a graduate assistant. His primary responsibility is athletic training duties for menís ice hockey. Originally from Sheldon, Illinois, Andy was a 1996 graduate of the University of Illinois with a Bachelor of Science in Kinesiology.
Andy has returned to Wisconsin after holding a position at the United States Military Academy in West Point, New York, as an assistant athletic trainer. While at West Point, he was an assistant athletic trainer for football, ice hockey and lacrosse. Prior to working at the Military Academy, Andy was a graduate assistant at the University of Wisconsin-Madison from 1996-1998. As a graduate assistant, he worked with the Badger wrestling and football teams. In addition, Andy completed his Masterís degree in Health Education with a thesis topic concerning adolescent athlete use of smokeless tobacco.
Andy is a certified member of the National Athletic Trainerís Association and is a State of Wisconsin licensed athletic trainer. He lives in Monona with his wife Liz, and their children AJ and Allie.