Chuck Hart, Athletic Trainer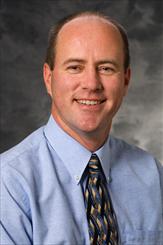 Since 1992, Chuck has been an employee of the UW Health Sports Medicine Center. His time is split between that facility and the UW Division of Intercollegiate Athletics. At the UW Health Sports Medicine Center, Chuck is involved in the athletic training outreach program as a physician extender. In the McClain athletic training room, he provides athletic training services for cross country and track and field.
Chuck graduated from UW-Madison with a Bachelor of Science in Physical Therapy in December 1989. Chuck also completed a graduate assistantship in athletic training at Michigan State University, where he obtained a Master of Arts in Health Education and Exercise Science. He is a certified member of the NATA and Wisconsin Athletic Trainers' Association. He is married with two children.