Tricia De Souza, Athletic Trainer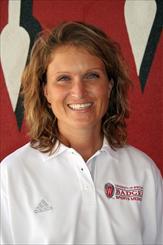 Tricia joined the Sports Medicine team in 2006. Her primary responsibility is working with menís and womenís crew.
Tricia received her Bachelor of Science degree in kinesiology from UW-Eau Claire in 1995. From 1995 to 1997, Tricia was a graduate assistant at Western Michigan University, serving as the athletic trainer at Mattawan High School. Upon graduation, she returned to Wisconsin working at Gundersen Lutheran Sports Medicine in Onalaska. Tricia then served as an athletic trainer for womenís basketball and menís soccer at the University of Illinois at Chicago. Prior to the University of Wisconsin-Madison, Tricia was the head athletic trainer at Nova Southeastern University in Fort Lauderdale, Florida working with the menís basketball and womenís rowing teams. While at NSU, Tricia taught in the undergraduate athletic training education program.
She is a member of the National Athletic Trainersí Association and National Strength and Conditioning Association. Tricia and her husband, Fabricio, live in Madison with their daughter Catarina.