Janet Benson, Program Specialist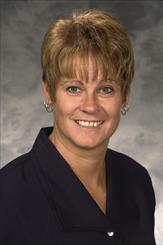 This is Janet's sixteenth year with Badger Sports Medicine. Her responsibilities include assisting the head athletic trainer and the staff athletic trainers with administrative functions – from budget issues, database development to publishing staff publications. She is also responsible for the Health Insurance Program for the Athletic Department. She can assist all student-athletes and their parents with any insurance questions or medical payment issues that may arise. She served on one of the Chancellors committees in developing the HIPAA guidelines for the university and the Athletic Department.
Janet attended the University of Wisconsin and is a Badger Volleyball alumnus. She is also an active member of the UW W-Club. Janet is currently pursuing a certification in the Medical Coding and Billing field. Janet and her husband, Barry, reside in Cambridge.