Jay Vickers, Senior Assistant AD for Advancement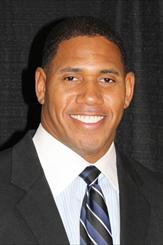 Jay Vickers was named the Senior Assistant Athletic Director for Advancement for the UW Athletic Department in September, 2012. Vickers serves as the department head for the Wisconsin Athletic Development office and is responsible for the oversight of the Athletic Ticket Office.
Vickers spent two years in development at the University of Nevada, Las Vegas as the Associate Athletics Director of Development from 2010-12. His primary responsibilities included identifying, cultivating and soliciting major gifts and high-end annual giving prospects for the Rebel Athletic Fund.
Prior to UNLV, Vickers served as the Assistant Athletic Director for Development at the University of Arizona, where he played a role in major gift fundraising for the Wildcat Club. Before that, he was at Fresno State from 2007-09, where he had an instrumental role in major gifts fundraising for the Bulldog Foundation. In 2009, Vickers was promoted to Assistant Athletic Director of Development.
A native of Tallahassee, Fla., Vickers graduated from the University of Notre Dame in 2000 with a Bachelor of Arts degree in Business Marketing and Computer Applications. While at Notre Dame he was a student-athlete with the Notre Dame football team. Before entering collegiate athletics, he acquired more than seven years of professional experience as a sales marketing manager with an extensive background in customer service, sales, marketing, and management.