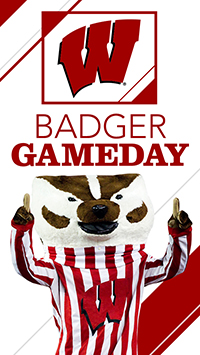 Expanded Badger GameDay App Available
Downloads
Now, you can stay in touch with the Badgers anytime, anywhere, on your iPhone, iPad or iPod Touch.
Enhance your gameday experience by catching all the breaking news, including important live fan alerts. See real-time statistics via Gametracker. Watch on-demand video of highlights, news conferences and player interviews. Follow in-game blogs and carry the UW team rosters with you to the games. There is even closed captioning available for football.
Features include:
News: Real-time breaking news from the Badgers previews of upcoming match ups, game recaps.

Video: Video-on-demand clips of the Badgers press conferences, coach and player interviews. Watch replays live from your seat at the football, basketball or hockey games, with your choice of up to four different camera angles. Watch live streams of games (with subscription).

Audio: Live audio feeds of games.

Stats: Real-time statistics, head-to-head stats of selected matchups, player and season stats.

Social media: Aggregated twitter of the Badgers' official tweets, check in to the stadium on game-day, one-click tweet of all media items, one-click Facebook posting of all media items.

Upgrade your game experience with unique offerings like being on the field or seat upgrades.

Create a digital keepsake while in venue

Schedule: Schedule of upcoming games, and scores/stats of previous games from the season, purchase tickets for games.

In-venue Content: Interactive maps of Camp Randall Stadium and Kohl Center concessions, along with exclusive content available on your mobile device on game days.

Read the latest features in Varsity Magazine

Photos: Galleries of game-time action.
Note: If you experience problems or have questions about the Badger GameDay App please email webmaster@uwbadgers.com.