Newly expanded Badger Gameday App now available
Downloads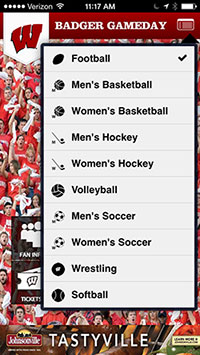 The Badger Gameday app has been upgraded and expanded to include 10 University of Wisconsin sports this season, putting gameday information at your fingertips on your mobile device.
The official app of UW Athletics is now available FREE in the App Store for users of iPhones and iPads as well as in Google Play for Android device users.
The mobile application lives on your mobile device and provides live, 24/7 multi-platform access to information on Badgers football, volleyball, menís and womenís basketball, menís and womenís hockey menís and womenís soccer, wrestling and softball.
Enhance your gameday experience by catching all the breaking news, including important live fan alerts. See real-time statistics via Gametracker in football, basketball and softball. Watch on-demand video of highlights, news conferences and player interviews. Follow in-game blogs and carry the depth charts or visiting team rosters with you to the games. There is even closed captioning available for football.
New with this version of the Badger Gameday app is access to live event video streams (with subscription) and links to listen to your favorite Badgers team (via the iHeartRadio app for iOS devices).
Use the handy interactive Camp Randall Stadium or Kohl Center maps to find a variety of gameday items or get directions by using the campus map. Seating charts for the UW Field House, LaBahn Arena and Goodman Diamond are also included.
Now, you can stay in touch with your favorite Badgers sports anytime, anywhere on your iPhone, iPad or Android device.
FEATURES include:
Sports:

Ten UW sports included in this app are football, menís and womenís basketball, menís and womenís hockey and volleyball, menís and womenís soccer, wrestling and softball.

Upgrade your gameday experience

Through the gameday app, fans will be able to upgrade their experience right from their mobile device. Want a seat upgrade? Once the game kicks off, review available seats and purchase a seat upgrade to better enjoy the game. Looking for a unique experience to add to your gameday? Purchase a gameday memory. Get a post-game photo taken on the 50-yard line. Secure a spot at Coach Andersenís post-game press conference. Kick a field goal on the field post-game. Watch the halftime band show from the field. These experiences and more could be available on a game-by-game basis for fan purchase.

Schedules:

Current UW sports schedules and results and future football schedules.

News:

Real-time breaking news from the Badgers, previews of upcoming matchups, live Gameday Blog.

Depth charts:

Depth charts for football; home and visiting team rosters for other sports.

Live Events:

Listen live to the radio broadcasts, follow the live gameday blog or view the live or on-demand video stream with a subscription.

Stats:

Real-time live stats for football, basketball, hockey, soccer, softball and volleyball.

Maps:

Interactive campus map complete with Google directions, plus Camp Randall Stadium and Kohl Center interactive maps.

Concessions:

Interactive map of the Camp Randall Stadium and Kohl Center with searchable concessions-stands and amenities.

Video:

On-demand video of Badgers press conferences, coach and player interviews and more via the Wisconsin Badgers YouTube channel.

Live video streamlinks (with subscription) for live events and new conferences.

Rosters:

Updated depth charts for football and team rosters for all 10 sports.

Tickets:

Opportunity to purchase tickets via your mobile device, including specials available only via the app.
ADDITIONAL FEATURES
Social Media: One-touch Twitter and Facebook access to the your favorite sports plus #Badgers Stream, Flickr, Instagram and Pinterest access.
Badgerville: Complete schedule of the Official Pre-Game Party for Wisconsin Football.
Closed Captioning: Live text updates of announcements inside Camp Randall Stadium.
Campus: An all-encompassing list of campus events.
Varsity Magazine and Game Programs: Get the all-new digital game programs in advance of the events for football, basketball, volleyball and menís hockey.
Note: If you experience problems or have questions about the Badger Gameday App please email webmaster@uwbadgers.com.