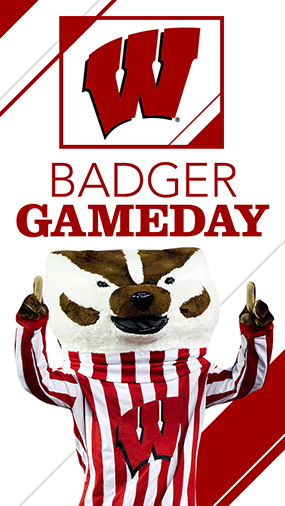 Official Badger GameDay App
Downloads: App Store (iOS) | Google Play (Android)
New in 2015 is the redesigned Badger GameDay App featuring all 23 Wisconsin sports. This is the official mobile gameday app of the Wisconsin Badgers. Make your iPhone, iPad, or iPod Touch or android device a unique part of your game-day experience for Badger events. Enjoy breaking news, updated statistics, video-on-demand, including live video streams from multiple angles and replays inside Camp Randall and the Kohl Center. This app puts gameday information and action at your fingertips on your mobile device.
The official app of UW Athletics is now available FREE in the App Store for users of iPhones and iPads as well as in Google Play for Android device users.
Learn More about the features...
Feedback
We want to hear from you. What do you want to be able to do on your iOS and Android device that you canít do with version 3.0? Send your ideas, feedback and questions to webmaster@uwbadgers.com
Support
Support for the official Wisconsin Football Gameday for iOS app is available by contacting the webmaster@uwbadgers.com
Requirements
iPhone and iPad devices running iOS version 7.0 or greater. Visit Apple.com if you need help upgrading your device.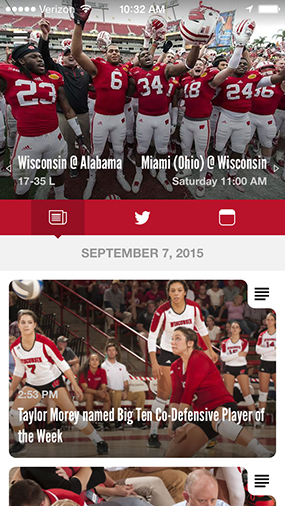 Privacy statement
Badger GameDay App 3.0 for iOS uses Yinzcam Analytics to analyze overall usage of the app. Anonymous, aggregate usage statistics are collected. The data collected never includes names, usernames, e-mail addresses, phone numbers or phone ID numbers. For more information on Yinzcam Analytics, please visit Yinzcam's website.
Read more Ľ
Appropriate use
Use of Badger GameDay App 3.0 is subject to UW-Madisonís Appropriate Use Policy. By using this application you are agreeing to abide by the policy. This application is copyrighted by the University of Wisconsin Board of Regents. All rights reserved.