BADGER BASKETBALL BOOSTER, INC.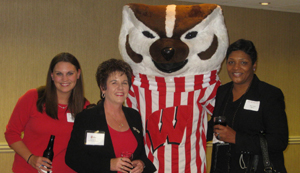 Attend the annual Tip-Off with Bo -- Silent Auction and Dinner with the Team!
This event is not for ladies only! We have a variety of great auction items (from game tickets to jewelry to sports memorabilia) for our guests to bid on. The evening concludes with Bo Ryan, his staff and the Men's Badger Basketball Team joining our group for dinner. This event takes place at the Concourse Hotel in Madison.
For more information on this event, or for information about the Badger Basketball Boosters, please contact Laura Strang at 608-265-6161 or email ljs@athletics.wisc.edu