Henry Perez-Guerra, Athletic Trainer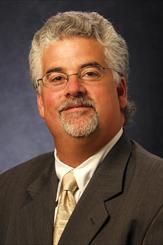 Henry is in his eighteenth year at the University of Wisconsin-Madison as a staff athletic trainer. His primary responsibilities are with the menís basketball and swim teams. Prior to coming to the Athletic Department, Perez-Guerra was employed by the University of Wisconsin Hospital and Clinicís Sports Medicine Center as an athletic trainer in the outreach program.
Henry received his Bachelor of Science in 1985 in Physical Education, with an emphasis in Athletic Training from UW-Madison. Following graduation, he spent the summer with the Philadelphia Eagles football club as an athletic training student. In 1995, he completed his Masterís degree in Health Education at Wisconsin. Perez-Guerra moved to Kansas City, Missouri to join Sports Rehabilitation and Physical Therapy Associates as an athletic trainer. He was assigned to the University of Missouri-Kansas City athletic program as the schoolís first full-time athletic trainer, responsible for all 12 NCAA Division 1 sports. He also started the sports medicine program from scratch. In addition to his athletic training duties, he taught a class in athletic training injuries for the School of Education and was the head womenís tennis coach.
Henry is a State of Wisconsin licensed athletic trainer and a certified member of the National Athletic Trainersí Association. He resides in Madison with his wife and two children.