Alyson Kelsey, Athletic Trainer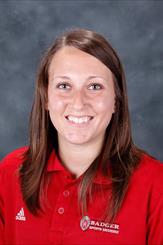 Alyson Kelsey is an Assistant Athletic Trainer at the University of Wisconsin. Her primary sport responsibilities include providing athletic training coverage to the cross country and track and field program. Kelsey joined the staff in July of 2013 as an intern working with the women's cross country and track and field program prior to becoming a full-time staff member.
A native of Hayward, Wisconsin, Kelsey received her bachelor's degree in Athletic Training at the University of Wisconsin-La Crosse, while also completing a minor in psychology in 2012. She went on to receive her Master's of Education in Athletic Training/Sports Medicine from the University of Virginia in 2013.
Kelsey is a licensed Athletic Trainer, and a member of NATA, and the Wisconsin Athletic Trainers' Association. She was the recipient of the David H. Perrin Athletic Training and Sports Medicine Award while obtaining her master's degree at University of Virginia.
Kelsey currently resides in Madison.