Gary Johnson, Athletic Trainer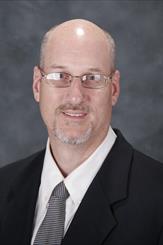 Gary joined the University of Wisconsin Sports Medicine staff in the summer of 2009. His primary responsibilities with the Badgers are as the Head Athletic Trainer overseeing all Olympic sports with direct responsibility to the Wrestling program. A native of West Allis, Wisconsin, Gary received a Bachelor Science in Physical Therapy from the University of Wisconsin in 1985. He then went to Indiana University where he earned his Masterís Degree of Athletic Training in 1987.
Johnson comes to the University of Wisconsin by the way of Arizona State University where he served as the Head Athletic Trainer for 4 years. Along with supervising 8 full time staff members and 11 graduate assistants, he had responsibilities of directing medical care for football. While ASU he served on various committees including the co-director of the Pac 10 Student Athlete Health Conference.
Prior to ASU, Gary served as the Head Athletic Trainer at San Diego State for 12 years. He was heavily involved in the Athletic Training Education Program, community health conferences and the NATA District 8 College and University Athletic Trainers Committee. He also was the Assistant Director of Physical Therapy/Athletic Trainer at Purdue University from 1987-1993. His sport responsibilities included working with football and menís basketball.
Gary is a certified member of the National Athletic Trainers Association and is licensed by the State of Wisconsin as an athletic trainer. He resides in Madison with his wife Kirsta and three children, Matthew, Kevin and Madison. He enjoys fishing, snow skiing and attending his childrenís functions.