Blair Schmitz, Assistant Director of Food & Beverage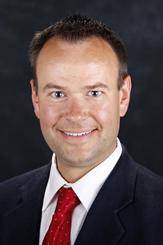 Blair Schmitz began with UW Athletics in July of 2000 as the Beverage Manager for the Food & Beverage Department. In 2004, his duties were expanded to include the operation of the Varsity and Buckingham Clubs at Camp Randall Stadium. He is currently the Assistant Food & Beverage Director who oversees the premium seat operations including suites at both Camp Randall Stadium and the Kohl Center, the Varsity Club, Buckingham Club and the Nicholas Club .
Blair has more than 20 years of experience in the hospitality industry including being the General Manager of a chain restaurant and Banquet Manager at a prestigious local hotel. He is a licensed bartender; SafeServ trained in the safe and proper handling of food products, and holds his Food Manager Certification from the State of Wisconsin. Blair currently serves on the board of directors for the Association of Luxury Suite Directors.