Calvin Holden, Kohl Center Sous Chef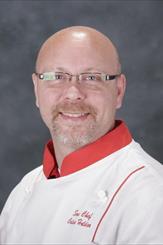 Calvin is the Sous Chef at the Kohl Center focusing on the production and presentation of the menu items for the Kohl Center suites. He also assists in menu development for the Kohl Center suites, Camp Randall suites, and the on campus catering provided by the Athletic Department. On Football Saturdays, Calvin also oversees the food display in the Buckingham Club.
In 2000, Calvin started working at the Kohl Center as a prep cook, with 3 other kitchen staff. His progression includes many different positions including a LTE role, Project position, and a DLTE role. In 2004, he became a classified state employee. The majority of his work experience and education has happened through the Athletic Department at the UW Madison. Calvin has taken courses to improve his management skills; is CPR trained, and ServSafe certified.