Herbert Hackworthy, Executive Chef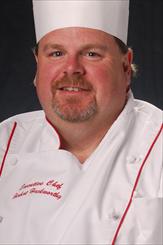 Herbert has been the Executive Chef for the University of Wisconsin, Madison Athletic Department since October of 2000. He is responsible for all food preparation for the Athletic Department (Athletic Teams, Suites and Catering), which includes Camp Randall, the Kohl Center and University Ridge Golf Course. The scope of his responsibilities includes: hiring, staff supervision, menu and function planning, service/maintenance of all food and beverage equipment, food ordering and preparation.
Herbert earned his Associates Degree in Culinary Arts from Milwaukee Area Technical College in 1980 and is certified by the American Culinary Federation. He has held numerous positions of responsibility including Line Chef, Sous Chef and Executive Chef at various country clubs throughout Wisconsin prior to his employment with the Athletic Department. Herbert has completed various continuing education courses which include training at the Culinary Institute of America, Hyde Park. Herbert has been a member of the American Culinary Federation since 1978.