Joseph Fishback, University Ridge Chef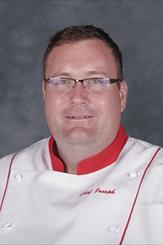 Joe Fishback has worked for the Athletic Department since 2006. He is the Head Chef at the University Ridge Golf Course, where he is in charge of purchasing food for golf outings and overseeing the day to day kitchen operations. During the football season, Joe assists at Camp Randall on football Saturdays by running one of the Varsity Club's Kitchens. He helps at the Kohl Center preparing food that is served in the suites for basketball and hockey games during the winter months.
Joe joined the University of Wisconsin Athletic Department with more than twelve years of experience in the restaurant industry. He began cooking in high school which carried over to his college years at the University of Wisconsin – Oshkosh.