Holly Weber, Director of Human Resources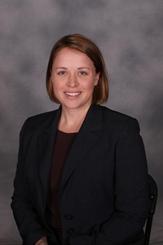 Holly Weber was named the Human Resources Director for University of Wisconsin Intercollegiate Athletics in October 2010. Weber's previous employment with the State of Wisconsin includes over two years as a Human Resources Program Officer for the State of Wisconsin Department of Health Services (DHS).
In her role at DHS, she oversaw a team of human resources and administrative professional staff in the primary areas of classification, staffing, and compensation for an organization with over 5,000 employees. While at DHS, Weber's scope of responsibility also included: workforce planning, training, Continuity of Operations, project management, retention, compensation analysis, performance and discipline issues, and workforce reductions.
Prior to DHS, Weber worked at the University of Wisconsin System Administration as a Human Resources Manager for six years. In this role, she handled all aspects of classified and unclassified recruitment, retention, diversity, position classification and reclassification, salary analysis, performance and discipline issues, and assisted in staff benefits and payroll functions.
Weber earned her bachelor's degree from the University of Wisconsin – Platteville in Business Administration and Human Resources Management. She is a graduate of the DHS Leadership Institute. Originally from Monroe, WI, Weber and her husband Mica have one son, Jaxson.