Bruce Van De Velde, Senior Associate Athletic Director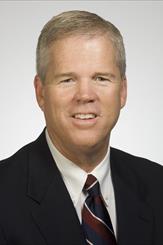 Bruce Van De Velde was named senior associate athletic director at the University of Wisconsin in August of 2013. He has over 25 years of experience in athletic administration serving in various leadership roles including as athletic director at three NCAA Division I institutions, Iowa State University, Utah State University and Louisiana Tech University.
At Wisconsin, Van De Velde oversees football as well as the administrative units of development, ticket office and Badger Sports Properties which includes corporate sponsorships and the state wide radio network. He also oversees the football booster group Mendota Gridiron Club. In addition, he serves as the liaison with the Chancellors Office, UW Alumni Association and the UW Foundation. During his tenure as an athletic director, Van De Velde hired numerous nationally-successful head coaches who won conference championships and were recognized by their peers for their success. Van De Velde led major fund raising campaigns for new facilities and provided leadership and strategic direction for Louisiana Tech University's invitation and transition from the Western Athletic Conference to Conference USA. Programs under his leadership have achieved great success academically and operated with integrity in terms of rules compliance. Van De Velde's background in intercollegiate athletics includes experience as a student-athlete, coach and administrator. He has served as a senior administrator in the Big Ten and Big XII conference's at Iowa State University, the University of Iowa, Kansas State University, the University of Missouri and the University of Oklahoma. He has held membership in various NCAA, national and conference committees including the NCAA Championships and Competition Cabinet, NCAA Football issues Committee and the NCAA Financial Aid Committee. He also served on the Division IA Athletic Directors Executive Committee and conference committees for television, finance, bowl games and sportsmanship. In 2005, he was recognized with the Robert Neyland Outstanding Athletic Director Award and was the recipient of the Admiral U.S. Grant Sharp award at the 1997 Holiday Bowl for his contributions to the Kansas State University football program. Van De Velde holds degrees from Iowa State University and the University of Iowa. He and his wife Debbie, a native of Manhattan, Kan., have a 14 year-old daughter, Ashley.