Doug Tiedt, Senior Associate AD for Student Services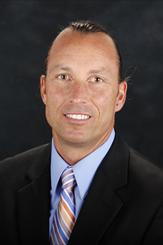 Doug Tiedt, Seniors Associate Athletic Director for Student Services, has been with the UW athletic department since 1996 and has been a member of the senior staff since May of 2011.
Tiedt oversees academic services, sports medicine, student development and strength & conditioning. He serves as the sport administrator for wrestling, menís and womenís track & field, menís and womenís cross country and is the Athletic Board liaison to the Academic and Compliance Committee.
Tiedt previously served as the Assistant Athletic Director for Academic Services from 2003-11, and as a learning specialist from 1996-2003. Prior to the UW, Tiedt spent six years as a special education teacher in the Verona and Evansville (Wis.) School Districts.
A member of the National Association of Academic Advisors for Athletics, Tiedt has served on the N4A Board of Directors and has held various committee appointments. Tiedt earned a B.S. in education from UW-Madison in 1988 and a M.S. in special education from
UW-Madison in 1991. A native of Freedom, Wis., Tiedt and daughter, Gracie, reside in Oregon.