Tim Taggart, Director for Food & Beverage Services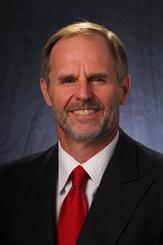 Tim Taggart was appointed to the position of Food and Beverage Director for UW Athletics in 2001. He oversees all food and beverage services within the athletic department facilities. He supervises 22 full--time staff and over 100 part-time staff during games and special events.
Besides feeding the student-athletes at both Camp Randall and the Kohl Center on a daily basis, Taggart and his staff service over 1,200 events annually. On event days at the Kohl Center, the food and beverage staff provides service to the 36 suites, the Kellner Club, the Nicholas Clubs, and the South Suites. At Camp Randall, they service 72 suites, the new Camp Randall Terrace, Heritage Hall, the Varsity Club, the Buckingham Club, and the Wisconsin Club.
At all athletic department facilities, they provide food service in pre-game hospitality tents, booster functions, the media and visiting teams. The staff also serves all meetings, dinners and receptions for the athletic department, university departments and outside groups that use the facilities.
Taggart has been in the food service business for over 35 years. Prior to joining the UW Athletic Department, Taggart was the concessions manager for the National W-Club for eight years, ran his own market and deli, and worked for Coca-Cola.
He was honored in 2005, as one of the University of Wisconsinís employees of the year. He and his staff were honored by Porchlight Inc., for their efforts to help them feed the homeless in the Madison community.
A proud father of three University of Wisconsin-Madison graduates and grandfather of three future Badgers, Tim lives in Madison with his wife, Maura.