Katie Smith, Associate AD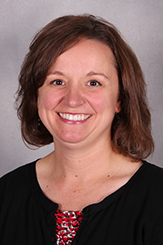 Katie Smith was appointed Associate AD of Compliance in 2015. Katie oversees all facets of the UW's daily compliance office operations, serves as the staff liaison to the NCAA, Big Ten, and WCHA, and coordinates internal audits of the compliance program. She also works closely with the following sports: Football, Men's Basketball, Men's Ice Hockey, and Wrestling.
Prior to her appointment, Katie spent three years as senior associate compliance director, and began with the UW in 1998 as the Compliance Assistant.
Before coming to Wisconsin, Katie was the compliance coordinator at Northern Illinois University, where she served as the primary compliance contact for Huskie Athletics.
Smith is a member of the National Association of Collegiate Women Athletic Administrators (NACWAA) and the National Association for Athletics Compliance (NAAC), serving as a member of the NAAC Education Committee.
Smith is a 1994 graduate of Southern Illinois University, where she earned a B.A. in Mass Communication and Media Arts.
Katie is originally from Danville, IL, and currently lives in Verona with her two sons, Quin and Cody.