Jeff Schmidt, Associate AD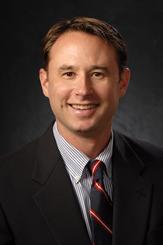 Jeff Schmidt was promoted to Associate Athletic Director for Administration and Legal Affairs in October 2015, after serving as the Senior Assistant Athletic Director for Administration and Legal Affairs since October 2013. Schmidt will have supervisory oversight of the UW Athleticsí Event Management, Facilities, Food and Beverage, and Guest Services departments. He will also serve as the Athletic Department liaison to the University Legal Services and Risk Management departments and serve in a lead role in the oversight of Athletic Department legal affairs, the development and coordination of Athletic Department contracts, and football scheduling.
Schmidt joined the UW Athletic Department in 2004 as a Special Assistant to the Deputy Athletic Director before assuming Event Manager duties in 2006. More recently, Schmidt served as the departmentís Associate Director of Events and Operations. At various times in that role, Schmidt was responsible for the overall event management of Football, Menís Basketball, Menís Hockey as well as both of Wisconsinís Track and Field and Soccer programs.
A former first-round draft pick of the Anaheim Angels in 1992, Schmidt spent eight seasons in professional baseball with the Anaheim Angels and Cleveland Indians organizations, making his major league debut with the Angels in 1996. Schmidt also worked as an attorney at a Madison law firm before joining the Athletic Department.
A native of La Crosse, Wisconsin, Schmidt graduated from the University of Minnesota with a bachelorís degree in 2000 and earned his law degree from the University of Wisconsin in 2003. He and his wife, Rebecca, have a daughter, Sydelle.