Terry Schlatter, Director of Equipment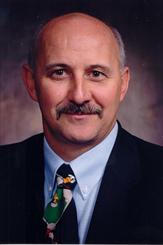 Terry Schlatter is a veteran of athletic equipment management. Entering the equipment profession in 1978, Terry has directed the equipment departments at Western Michigan University, (Kalamazoo, Mich.), Purdue University, (West Lafayette, Ind.) and has been with the University of Wisconsin-Madison since 1997. A graduate of Purdue University with a bachelor's degree in physical education, he lettered in baseball and was the MVP of the 1978 squad.
He has been actively involved in the Athletic Equipment Managers Association (AEMA) as District Director, Vice President and President. Presently he represents the AEMA on the Board of Directors for the National Operating Committee Standards for Athletic Equipment (NOCSAE). Terry serves as Treasurer for NOCSAE, which sets product safety standards for a vast majority of the athletic equipment being used in sports competition today.
Terry also has served as an consultant with Adams Plastics, Bike Athletics and Schutt Manufacturing on their Advisory Boards. He has also served on the Editorial Board for Athletic Management magazine.
Terry lives in Stoughton, Wis., with his wife Julie. He has two daughters, Rachel and Renee.