Josette Scheer, Spirit Squad Director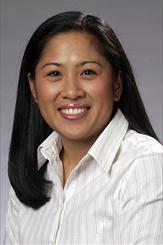 Nearby Middleton, Wis., native Josette Scheer has been the Wisconsin Spirit Squad Director since 2000. Her primary responsibilities include overseeing the UW cheer and dance teams, as well as the Bucky Badger mascot troop. Since assuming her duties, the entire UW Spirit Squad has become nationally recognized through its top-ranked performances at the College National Cheerleading & Dance Team Competition.
A Wisconsin cheerleader from 1992-97, Scheer has served in a number of spirit squad positions including the cheerleading coach from 1997-98 and 2001-02, and the dance team coach from 2002-03. She served as the assistant cheerleading coach while still an undergraduate from 1995-96, and was the administrative assistant from 1996-98. She was a 1997 graduate of Wisconsin with a bachelorís degree in kinesiology.
When not working with her UW group, Scheer serves as a judge at numerous cheerleading competitions at the local, state and national levels. She has three daughters: Natalie, Madelyn, and Quinlan.