Rob Porteus, Director of Video Services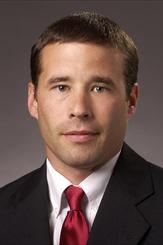 Rob Porteus joined the UW Division of Intercollegiate Athletics in 2004 after serving the previous four seasons as the Video Director for the Washington Redskins. Porteus manages the entire video operation for the Badgers' 23-sport intercollegiate program and oversees a staff of six assistant directors and numerous student staffers. His main sport responsibility is football, but he also has oversight duties for the video needs of all UW sports.
Porteus, who has 10 seasons of NFL experience with three teams, was an assistant video coordinator for four years with the Baltimore Ravens (1996-2000) and a video service assistant for two seasons (1994-95) with the Chicago Bears.
Porteus has worked for NFL head coaches Dave Wannstedt, Ted Marchibroda, Brian Billick, Norv Turner, Terry Robiskie, Marty Schottenheimer, Steve Spurrier and Joe Gibbs. While in Washington, Porteus led the installation of a new editing system with 27 coaches' stations while coordinating a format change for the video needs of the organization. He taught four different Redskins' coaching staffs the operation of the editing system.
Porteus has been invited to work at the NFL Scouting Combine every year since 1997, as well as the Senior Bowl (1998), Japan Bowl (2002), East-West Shrine Game (2003) and the Hula Bowl (2004).
Porteus is a native of Fredonia, Wis., and a 1995 graduate of UW-Platteville (B.S. in broadcast technology management).