Randy Marnocha, Associate AD for Business Operations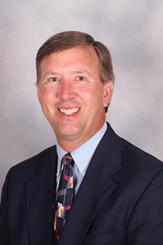 Randy Marnocha, was named the Associate Athletic Director for Business operations in June of 2010. He has more than 25 years of administrative and financial experience in a university setting. He has primary oversight of business operations, human resources bowl/post season travel, Anthony Travel, Bucky's Locker Room, equipment area, camps and clinics, and is the adidas liaison.
Marnocha spent the majority of his career at the University of Wisconsin-Whitewater, most recently as vice chancellor for administrative affairs (since 2006). In that role Marnocha served in a leadership capacity as a member of the chancellor's administrative staff team and supervised the Division of Administrative Affairs, including the offices of Budget, Financial Services, Human Resources and Diversity, University Police Services, Facilities Planning and Management, Risk Management and Safety, Internal Audit and Parking and Visitor Services. That division had an operating budget of $53 million and employed more than 140 full-time staff members.
He worked with UW-Whitewater Chancellor Dr. Richard Telfer to implement the school's $190 million budget structure (for more than 1,000 full-time employees on campus). He also collaborated with various state, municipal and campus agencies and units on major campus construction projects and represented UW-Whitewater during periods in which Dr. Telfer and Provost Kopper were absent from campus.
Marnocha began his career at UW-Whitewater as a staff assistant working in budget development and fiscal planning in 1983. Through the years he worked his way through roles as the school's budget planner (1985-86), senior budget planner (1986-92), director for budget, planning and analysis (1992-94), executive director for budget, planning and analysis (1994-97), assistant chancellor for budget, planning and analysis (1997-2002) and associate vice chancellor for budget and finance (2002-06).
At Whitewater, Marnocha served on more than 20 campus committees during his career and chaired 11 university "search and screen" committees, including searches for head coaches in men's basketball, volleyball and men's and women's swimming. He served on 17 UW System committees.