Kevin Kluender, Assistant AD for Marketing and Promotions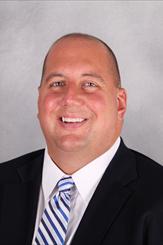 Kevin Kluender currently serves as the Assistant Athletic Director for Marketing and Promotions. A member of the Wisconsin Athletic Marketing staff since 1997, he has served as an intern, Marketing Assistant, Assistant Director of Marketing and Director of Marketing prior to his current appointment.
Kluender oversees the marketing efforts for all 23 UW intercollegiate sports, including ticket sales promotion and advertising, game-day activities & fan experience, gameday videoboard production and community relations. He is also co-director of the department's social media efforts.
His staff's work has been recognized with 16 National Association of Collegiate Marketing Administrators (NACMA) Awards since 2003. Kluender is also actively involved in NACMA. He has presented at the national convention on topics ranging from utilizing social media to managing youth initiatives to effective organizational structure. He previously served on the NACMA Veterans Committee charged with developing programing and education for senior members of the organization.
Kluender has also enjoyed an active role at the NCAA Men's Final Four. He has been a member the NCAA's Championship Presentation Staff serving as the Stage Manager for Final Four Friday, the National Semifinals and National Championship at Final Four events held in Detroit, Indianapolis, Houston, New Orleans, Atlanta and Arlington.
A past chair of the Big Ten Marketing Directors, Kluender has received several Big Ten Marketing Awards including being a member of the Big Ten Marketing Staff of the Year in 2000-01. He was named the Big Ten Marketing "Sixth Man" of the Year in 2002-03 and was selected by his peers as the Big Ten Marketing Director of the Year in 2005.
Kluender earned a B.S. degree in Journalism-Advertising from UW-Eau Claire. A native of Port Edwards, Wis., Kluender resides in Madison with his wife Sara and son Kyle.