Jason King, Senior Associate AD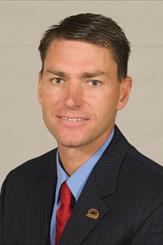 Jason King was named Wisconsin's Senior Associate Athletic Director for Capital Projects and Operations in 2015, after spending the previous 3 years as associate athletic director, and 11 years previous in charge of facilities and game operations at Southern Illinois.
King is the lead administrator on all major and annual capital projects as well as the facilities master plan. He will also serve as the athletic department's liaison to Facilities Planning and Management on campus. King oversees the following athletic department staffs: food and beverage, facilities and custodial, event management and transportation services. He will serve as the Athletic Board Committee liaison to finance, facilities and operations. He is also the administrator in charge of menís and womenís ice hockey.
During his tenure he has overseen four major projects. LaBahn Arena, a game and practice facility for the women's hockey team and a practice facility for the men's hockey team, opened in October of 2012. An all-season golf training center at University Ridge was completed in November of 2012. The Goodman Softball Training Center opened in September of 2013. And construction continues on Camp Randall Stadium and the McClain Center as part of the $86 million Student-Athlete Performance Center that will be completed in 2014.
After serving as the Associate Athletics Director in charge of facilities and game operations at Southern Illinois, King was promoted to SIU's Senior Associate Athletics Director in the Fall of 2010.
He was responsible for the supervision of SIU's athletic facilities, including Abe Martin Field, Saluki Stadium, the Charlotte West Stadium softball complex, SIU Arena, the Donald Boydston Center and Lingle Hall. In addition, King also serves as the sport supervisor for the Saluki baseball program.
King was involved in a number of major construction projects during his tenure at SIU, none more important than the $80 million Saluki Way campaign.
He was the driving force behind the Saluki Way project that featured a new football stadium, 50,000-square foot support facility and complete renovation of SIU Arena. King was SIU's point person between the contractors and architects and supervised the 18-month long construction process.
Saluki Stadium was the first football stadium built at SIU since McAndrew Stadium in 1937. The new 15,000-seat facility features a two-story press box, a 20x40 foot video scoreboard along with numerous other amenities, and King was responsible for working with all constituents during the design, planning and construction process.
King was also responsible for oversight of the design and construction of the $3.4 million Troutt-Wittmann Academic and Training Center that opened in October, 2005. The facility sports a 7,500-square foot weight training facility and a 6,000-square foot academic center, which includes 30 state-of-the-art computer work stations and tutor rooms.
Some of the other projects he oversaw at SIU included the lighting of McAndrew Stadium, the renovation of football and men's and women's basketball locker rooms, and the installation of an AstroPlay football surface.
In 2003, SIU christened the Charlotte West Stadium-Rochman Softball Field. The $1.7 million facility that features sunken dugouts, two batting cages, training rooms, a clubhouse and a state-of-the-art press box, seats 500. The facility received the prestigious National Fastpitch Coaches Association (NFCA), National Field Maintenance Award in 2003. In 2004, it was the regional recipient of that same award.
Prior to SIU, King worked at Florida State University, where he served as Coordinator of Facilities for the Department of Campus Recreation for four years (1997-2001).
He holds a bachelor's degree in business administration from the University of Northern Iowa and a master's degree in higher education/sports management from Drake.
He and his wife, Tricia, have two daughters, Kaylyn and Kelsey, and one son, Cory.