Dennis Helwig, Assistant AD for Sports Medicine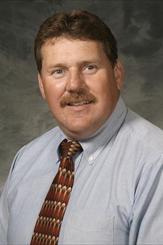 Dennis Helwig is director of athletic training services. He supervises sixteen licensed athletic trainers, who provide medical services for student-athletes in twenty-one sport programs. Additionally, he supervises sport nutrition services, coordinates the departmentís drug testing program, and serves as the HIPAA coordinator for privacy of student-athletesí medical records.
Denny is a native of Columbus, Wisconsin. He received his Bachelorís in Physical Education and Dance from UW-Madison. After spending a year with the Philadelphia Eagles football club, he returned to Madison in 1975 to work as an athletic trainer for football and ice hockey. During this tenure, he worked with the legendary coaches Bob Johnson and Jeff Sauer, who led the ice hockey team to great success, including many NCAA Championships.
Denny became head athletic trainer in 1985, working primarily with football and many of Wisconsinís renowned head football coaches, including John Jardine, Dave McClain and Barry Alvarez. He provided support for the Big Ten Championships and Rose Bowl teams of 1994, 1999 and 2000. His administrative duties as assistant athletic director began in July of 2003.
Denny was the 1984 Olympic Hockey Trainer and served on the medical team for the 1987 World University Summer Games. He served as president of the Wisconsin Athletic Trainersí Association for six years and spearheaded the campaign that resulted in licensure of athletic trainers in the state of Wisconsin. He continues to work within the state to promote the awareness and effectiveness of the athletic training profession. Denny serves the National Athletic Trainers Association on the Governmental Affairs Commission to promote the profession nationally. Dennis was inducted into the Wisconsin Athletic Trainersí Association Hall of Fame in 2001.
Denny and his wife, Jan, live in Verona. Their son, Christopher, is a college junior.