Terry Gawlik, Senior Associate AD SWA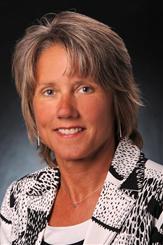 Terry Gawlik was promoted to Senior Associate Athletic Director for sports administration and Senior Woman Administrator in 2005 after serving the University of Wisconsin for seven years as assistant AD for sports administration.
Gawlik has oversight responsibilities for softball, volleyball, women's basketball and the men's and women's rowing programs. She represents the UW as its Senior Woman Administrator on both the conference and national levels. She also coordinates the coaches meetings, is the diversity plan coordinator and the gender equity plan coordinator.
Prior to becoming an assistant AD, Gawlik served UW-Madison as an administrative assistant and event coordinator (1994-98), supervising game-day operations, post-season tournaments and booster club events for menís and womenís basketball and volleyball, as well as assisting with marketing and promotions.
A 1981 graduate of Southwestern University with a bachelorís degree in physical education and English, Gawlik earned her masterís degree in physical education and educational administration from Texas State University in 1983. Her husbandís name is Dan Fitzsimons and they currently reside in Middleton.