Tam Flarup, Director of Website Services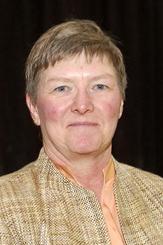 Director of Web Site Services
tjf@athletics.wisc.edu
Office: (608) 263-5502
Sports Contact: Men's and Women's Golf
Tam Flarup arrived at Wisconsin in 1977 as the first full-time womenís sports information director, a job she had for 25 years. She assumed the role of Director of Website Services for the Division of Intercollegiate Athletics in 2001.
Flarupís primary duties are to manage the content and design of Wisconsinís official website, UWBadgers.com. She had a dual appointment for many years as the main Athletic Communications contact for womenís basketball, a sport she oversaw for 31 years. She now maintains her ties in Athletic Communications by overseeing the students responsible for menís and womenís golf.
She became a member of the NCAA Communications Committee in 1995, and worked every NCAA Womenís Basketball Final Four until resigning after 16 years in 2010. Her influence in the womenís basketball arena was recognized nationally in 2004, when she was awarded the Mel Greenberg Media Award by the Womenís Basketball Coaches Association. Presented at the NCAA Womenís Final Four, the WBCA Media Award is presented annually to a member of the media who has best displayed a commitment to womenís basketball and to advancing the role of the media in the womenís game.
She has also served in several capacities in the national sports information professional organization, CoSIDA. She has been honored for her publications and served on a variety of committees in the College Sports Information Directors of America including as a member of the national governing board from 1998-2001. Flarup was inducted into the CoSIDA Hall of Fame in 2007, and is currently the chair of the Special Awards committee.
As the director of Website Services, Flarup works with the Athletic Communications and Marketing units to assign headlines and serves as the managing editor of UWBadgers.com.
An Iowa native, Flarup is a 1975 graduate of Iowa State University with a double major in journalism and physical education.