Michael Cerniglia, Executive Director of the National W Club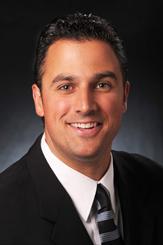 Mike Cerniglia was promoted to the position of assistant to the athletic director on August, 9, 2011. He was the director of operations for the UW men's hockey program for the previous six seasons.
In his new role, Cerniglia will assist with departmental communication, budgetary management, daily administrative operations and special projects. He will play a key role in overseeing the department's student-athlete discipline policy as well as helping with administration of the men's and women's hockey programs and the transition of the men's hockey program into the Big Ten Conference.
Cerniglia was a four-time letterwinner with the Badger men's hockey team between 1996-01. He was a member of various student-athlete advisory boards while he was playing hockey for UW. He was also honored with a community involvement award by the National W Club in 2001.
As a Deputy Sheriff with the Dane County Sheriff's Office from 2001-04, Cerniglia volunteered his time to work with programs such as Shop with a Cop and the Dane County Holiday Toy Tour. He also worked with Badger Sports Properties and prior to that was the menís hockey administrative recruiting coordinator and alumni coordinator.
Cerniglia is a 2001 graduate of Wisconsin, with a bachelor's degree in communication arts. He lives in Madison with his wife, Aleah, and two children, Michael and Jada.