Wisconsin Fan Advisory Board
In its continuing efforts to enhance the fan experience, the UW Athletic Department has established a Fan Advisory Board. This venture was designed to foster a productive dialogue between season ticket holders and the Department of Intercollegiate Athletics. Members of the board have the opportunity to contribute ideas, opinions and feedback on a range of issues and topics.
To become a board member, applicants must be a season ticket holder in at least one sport in which UW Athletics offers season tickets (football, volleyball, women's hockey, men's hockey, men's basketball or women's basketball). Board members serve a one-year term during the fall and spring academic semesters and have helped shape the future of game days at Wisconsin.
Serving on the Fan Advisory Board is a great way to be a part of the Wisconsin Athletic Department and enjoy unique benefits and recognition that come with being on the council. The commitment is just four meetings a year held at exclusive locations within and around the University of Wisconsin Athletics facilities. These meetings are a fun way for members to share their opinions and perspectives, and develop recommendations in a focused, small group setting.
2014-15 Fan Advistory Board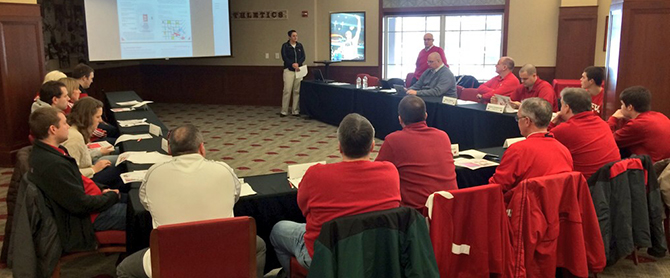 The 25 members of the 2014-15 were: Alan Rubenstein, Andrew Schumacher, Brian Suttie, Corey Singletary, Derek Lalley, Jean Tenuta, Jennifer LaMontagne, Justin Dodge, Kaleb Gottwald, Karen Ehrle, Kay Lund, Ken Stetson, Kevin Kloehn, Matt Bahlman, Mia Beltran, Pam Cherney, Phil Greenwood, Randy Kunsch, Scott Semenek, Stephen Hampton, Sudha Quamme, Thomas Demmin, Tom Tiefenthaler, Troy Snow, Zach Hanley.
2013-14 Fan Advisory Board
Members of the first Fan Advisory Board, pictured above, were selected from over 800 applications.
The 25 members of the first group were: Scott Aulinskis (Western Springs, Ill.), Melissa Bright (Fitchburg), Colleen Chase (Fitchburg), Mark Courchane (Madison), Ken Falkinham (Wadsworth, Ill.), Kim Frome (Colby), Barbara Gessner (Madison), Gregory Gordon (Madison), Nancy Hilton (Madison), Patricia Kendall (Cambridge), Ken Kruska (Deerfield), James Lund (Madison), Michael Manley (Rockford, Ill.), James Martell (Chicago, Ill.), Brad Meier (Middleton), Beth Olson (Middleton), Terri Leigh Rhody (Portage), Ben Saxon (Madison), Nicole Schrier (Lake Mills), Michael Slepica (Oregon), Hannah Somers (Madison), William Spangler (Altoona), Todd Taylor (Merrimac), Nancy Thomas (Mount Horeb) and Greg Wise (Baraboo).